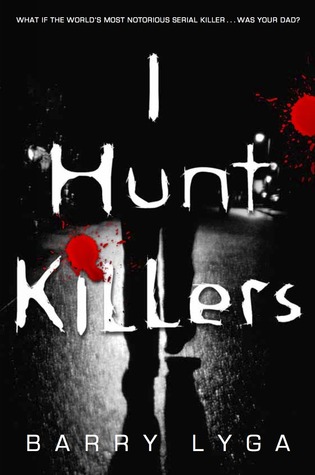 Title: I Hunt Killers
Author: Barry Lyga
Release Date: April 2012
Published By: Little, Brown
Pages: 359
Goodreads Rating: 4.06 stars

Review:
Jasper Dent is a charismatic teenager, well-liked in his small community. But he's also the son of the world's most infamous serial killer, for whom Take Your Son to Work Day was everyday. Jazz has seen unspeakable crimes, and knows exactly how criminals work. So when bodies are piling up in Lobo's Nod. He joins the police in a hunt for this new serial killer. But he has a secret - could he be more like his father than anyone knows?
I HUNT KILLERS brings a fascinating look at serial killers, depicting them with a brutal accuracy and complete with all the gory details, yet without going farther than where it needs to go. It's an unflinching look at the darker side of human nature combined with the compelling voice of Jazz Dent and a story that's never been told quite like this before.
In particular, I appreciated the rich character development of Jazz. He's a difficult person to portray, given the circumstances, but he was depicted as honestly as you could ask for. Yet despite these scary dark points of his personality, he remained relatable as he struggled through his personal obstacles and tried to stay strong. There are people around him who love and care for him, and in a way, I HUNT KILLERS was just like any other young adult book.
It's strange to think that a book about serial killers would have a good romance, but that was definitely true in this case. The characters were strong and complex, and thus Jazz's love story was both awesome and well-written. It was believable and endearing, and added another great component to the story as a whole.
All in all, I HUNT KILLERS is a memorable and fascinating book that's not likely to be forgotten soon. From the wonderfully complicated cast of characters to the sweet romance, this is a book I would recommend to anyone... who isn't too afraid of violence, in any case.