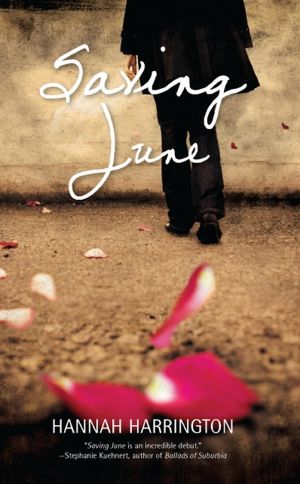 Title: Saving June
Author: Hannah Harrington
Release Date: May 2011
Published By: Harlequin Teen
Pages: 336
Goodreads Rating: 4.19 stars
Review:
Harper's older sister has always been the perfect one, so everyone reels with shock when June killed herself a week before graduation - Harper the most devastated of all. She goes against her parents and plans a road trip with her best friend to deliver the ashes to the ocean. When Jake, a boy with a connection to June, insists on coming along, she's desperate enough to let him. Except it turns out June's not the only one with secrets - Jake has one with the power to turn everything upside down.
SAVING JUNE's execution was as lovely as the premise sounds, every word on every page brimming with honest, gritty emotion. Hannah Harrington wove a story of grief, love, and longing set to a backdrop of a road trip across America, the melancholy sweetness of the narrative strong enough affect even the most stolid reader. From Harper's quest to deliver her sister to where she always wanted to go, to the budding emotions concerning Jake's secret, this book promises to pull tears.
Although the writing was exceptional, there were some plot devices that occurred that felt far too contrived. Everything fit together a little too perfectly and coincidentally to be truly satisfying, and the plot's smoothness was perhaps its largest flaw. Some of these events were rather cliché and a bit too overused to be anything but stale, and the novel could have benefited from a more original take on the road trip romance in this regard.
From a talented author comes a remarkable debut book with a sweet, moving plot and a cast of characters sure to warm the grizzliest of hearts. The storyline bordered on contrived at points and was not wholly original, but it was executed well with emotional writing. This is a novel for anyone who enjoys young adult contemporary fiction with grieving and road trips.
I received a free copy of this book for review. This in no way affected my review.